What is Tui Na and Qi Gong?
Tui Na and Qi Gong are traditional holistic forms of healing used in China for hundreds of years to achieve a complete health. Tui Na is a type of vigorous, deep massage which uses many different types of hand movement to stimulate the tissues and energy circulation and bring increased blood flow to problem areas of the body.
The massage movements can vary from deep massage to rhythmic pounding or quiet soothing circular movements over energy centers. It is Chinese pressure point therapyapplied along important acupuncture meridians of the body and therefore works directly on the organs, it can release blockages in the energy flow and help to rebalance the energy throughout the body, the affects are similar to acupuncture, but without the use of needles.
Treatments and its effects
Treatments last an hour and are given either sitting or laying down, the patient should wear comfortable loose clothes and not eat a heavy meal for an hour before treatment. The massage can be very vigorous and sometimes a little painful, and the patient may experience tingling, an increased flow of energy and a deep internal relaxation. These sensations are normal.
Chinese Massage is not only for the athlete, but it can help sports or martial arts injuries, stress, body weakness and fatigue, back problems, headaches and other internal problems, it is a holistic
Trusted by Olympic Champions.
Trusted by Olympic Champions.
Open 7 days/week.......Saturdays........Sundays
Open 7 days/week.......Saturdays........Sundays
Emergency appointments often available
Emergency appointments often available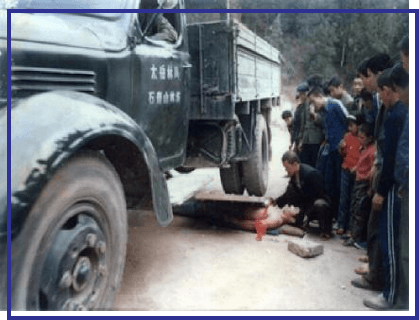 Shifu Quan Jun Liu
…came over from mainland China to share his skills in the Eastern atrs of treatment, health and martial arts Here stuck under a truck
Helps reducing swellings in the tissues
Our Tui Na and Qi Gong practitioner
Shifu Quan Jun Liu, tui na, qi gong, tai chi, kung fu teacher
a native of China, has studied wushu (traditional Chinese martial arts or kung fu) and qi gong since childhood, and has been teaching traditional Chinese martial arts since 1991 and has studied with some of the best masters. He is a practitioner of Chinese medicine and specializes in Tui Na (Chinese massage), Dian Xue (acupuncture point massage), qi gong healing and martial arts therapy.Please show the World that you like us by clicking the +1 button.
With osteopathy, physiotherapy and sports injury clinics in kings cross and Shoreditch, we are conveniently located for Central London, the City, North, West, South and East London. Islington, Kings Cross, Euston, St Pancras, Moorgate, West end, Camden, City, Chelsea, Harley Street, Kensington, Knightsbridge and post codes:N1, W1, W2, W8, NW1, WC1, WC2, EC1, EC2, EC3, EC4, SE1 for a complete health care.
Our Hoxton clinic is serving Shoreditch, City, Hackney, Canary Wharf, Liverpool Street and post codes: EC1, EC2, EC3, EC4, E1, E2, N1