ankle sprain clinics in London
What do I do if I have an ankle sprain? - - Can I find an osteopath near me? - - or should I find a physiotherapist near me? - - On this page we will try to give advice on how to help ankle sprains - -
What do I do if I have an ankle sprain? - - Can I find an osteopath near me? - - or should I find a physiotherapist near me? - - On this page we will try to give advice on how to help ankle sprains - -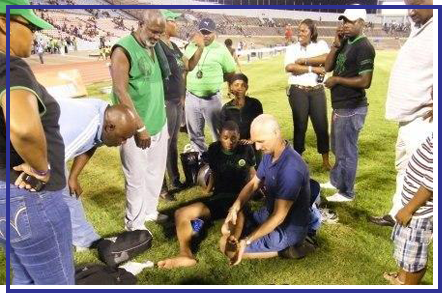 Osteopath Torben Hersborg giving treatment for sprained ankle at an athletics meet in Kingston, Jamaica, with top Jamaican sprints coach, Glen Mills.
An ankle sprain occurs when the ankle is taken past its normal range of motion
resulting in damaged ligaments, usually on the outside of the ankle joint. Ankle sprains are classified by a graded scale of severity from a slight stretch of the ligament with no tears to a complete tear of the ligament – sometimes with an avulsion fracture, where the ligament rips a small piece of bone off. This will require more treatment and rehabilitation to avoid serious chronic issue.
What prevents the ankle sprain from healing is that the ankle joint can stay misaligned and continuously strain the ligaments and maintain wrong weight bearing on the ankle joint – this can result in an unstable ankle joint lasting many years.
This page focusses on the common sprained ankle injury, how to do first aid for an ankle sprain, how to do ankle rehabilitation exercises and a bit about ankle sprain treatments.
Most ankle sprains happen by rolling the ankle inwards and thereby pulling the ligaments on the outside of the ankle which then will be very painful, swell up and bruising can happen in the next few days.
The first aid for ankle sprains is to reduce the swelling by icing it as soon as possible – preferably witlhin a minute.
At the same time you will put compress on it to further stop it from swelling.
If you elevate your leg the swelling is helped moving away from the sprained ankle.
A typical ankle sprain will involve a torsion of the ankle bone (talus) where it sits below the tibia and fibula.
This can cause further damage and pain to the ankle joint when weight bearing on it.
Therefore rest is required until the joint is realigned.
As well as the above first aid tips for ankle sprains you should mobilise your ankle without weight bearing.
We will show you some ankle sprain exercises on this page. – (under development).
sprained ankle adjustment:
ONLINE BOOKING
CONTACT US
What is the best treatment for a sprained ankle in London?
Proper treatment of a sprained ankle can speed up recovery and prevent re-injury or chronic problems.
Our osteopaths and physiotherapists in London work gently and precisely, adjusting the ankle into its best position and giving you rehabilitation exercises to get better quickly.
As other structures, such as the knee, might be affected, we will also look into the mechanics of local and often distal areas of your body.
You can have treatment for ankle injury as soon as the injury occurs.
In fact the sooner you get treatment for ankle sprains the better.
One of our osteopaths from Central London Osteopathy and Sports Injury Clinic has even been described in several newspaper articles as a "miracle man" for ankle sprains when he helps a top athlete competing (and winning) less than a day after initiating the treatment for the acute ankle sprain which has cribbled the athlete.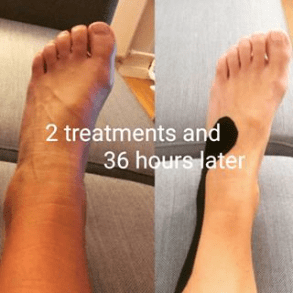 Very swollen sprained ankle.
From not being able to walk, the next day wearing high heels at a show – not advisable, but required by the job as TV presenter
What is the best treatment for sprained ankles?
What is the best treatment for a sprained ankle?
Most sprained ankle have a mechanical reason to be there and as such a mechanical approach such as osteopathy or physiotherapy are ideal methods to free up the compressed joints and stiff muscles plus advicing on correct ankle sprain exercises.
At the Central London Osteopathy and Sports Injury Clinic we see sprained ankles very often, so we have a lot of experience in lower back pains.
People usually would see one of our osteopaths or physiotherapists for sprained ankles – and conveniently based in Central London we often can see you on the same day if you book early enough.
If you want to find a sprained ankle clinic near me look no further.
With our Osteopathy and Sports injury clinic in Shoreditch, we are conveniently located for osteopathy in Central London, the City, Angel, Islington, Canary Wharf, Docklands, North, West, South and East London and is easily accessible from anywhere in London via London buses and trains and whether you are local or not, we will do our best to make your journey worth it.
Nearest tube stations: Old Street, Shoreditch High Street, Moorgate and Liverpool Street.
How do I find the best osteopathy clinic in London?
To find the best osteopath in London for your back pain, sciatica or other injury you should first ask your friends or colleagues who the think is their best osteopath in London .
You can also look up in google search for positive reviews and that way find the best osteopathy clinic in London according to other users experiences. To find the best physiotherapist in London by looking at the website of the physiotherapy clinic itself can also give good hints although you must be aware that it has been written by the physiotherapist himself with one of the main aims of letting you know that he is the best physiotherapist for you – and we are no different to all other physiotherapists in London on that point.
But please give us a call on 020 7739 5666 because it is impossible to say which is the best physiotherapy or osteopathy clinic in London – but we promise that our physiotherapists and osteopaths are very experienced, hands-on and will do their very best for you.
We have been going since 1991 and literally handpicked our osteopaths one by one.