SPORTS OSTEOPATHY
Practitioners from the Central London Osteopathy and Sports Injury Clinics have been flown out to most parts of the World to help athletes in training and competing.<br /> We are renowned by the Elite Athletes for the speed of recovery from injury and the help we can give leading up to (and during) major championships.<br /> We have a lot of understaning of sports injuries, some of our practitioners have competed at professional, International - and even Olympic level.<br /> This page lists some of our practitioners who can help the serious athlete and some of our principles behind our approach.
Sports "Tune-Up"
The "Tune-Up" is a treatment designed by osteopath Torben Hersborg to:
1) Free up restricted joints
Joints that are not moving 100% freely will slow you down and require more muscular effort and energy, therefore tiring you more. Your potentionally full range of movement will not be achieved neither.
2) Stimulate relevant muscle groups
Muscles that are not relaxed and alert will not react fast and explosive but will be more prone to injury and consume excessive energy. Tight muscles will also reduce your range of movement.
3) Free up the diaphragm
A tight diaphragm will restrict your breathing, hence reducing your oxygen intake and adversedly affect your performance and recovery.
4) Connect the body
One part of the body, that doesn't function optimally can affect other areas e.g.: A little neck restriction, irritating the motor fibres of the nerves that supply the arm can reduce the responce of the target muscles as far away as the fingers.
Muscle chains are muscles which enhance (or reduce) other muscles eg: Postural muscles in the neck can affect postural muscles in the lower back, so a lower back weakness can be caused by a muscular tension in the neck.
In the normal gait pattern, the arm swing is chained to the leg swing, so a shoulder problem can affect the hip (and vice versa) through a faulty muscle chain.
5) Target known weaknesses and areas prone to injury
Have you got any known weaknesses or injury prone areas special attention will be given to this.
The "Tune-Up" starts with case history taking, top-to-toe examination incl. muscular performance and joint movements. Then the treatment typically involves manipulation of the spine (helping the central control of the whole body), manipulation of peripheral joints and soft-tissue work including reflex- and trigger point therapy. The athlete usually instantly feels free and invigorated, ready to perform to their very best.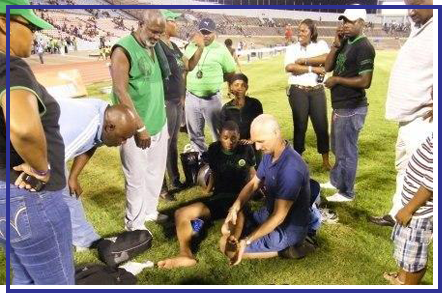 Torben Hersborg from the Central London Osteopathy and Sports Injury Clinic giving treatment for ankle sprain under the supervision of Jamaican Olympic Head Coach, Glen Mills.
Torben Hersborg, Principal osteopath, judo International:
Has competed at International level in Judo for decades with around 15 medals at National Championships and a 5th at the World Masters Championships in 2002.
Torben has developed his own approach from which the elite in sports from all over the World has benefitted – both in the clinic and at championships.
Fabio Basile, osteopath and manual therapist:
Apart from working at the Central London Osteopathy and Sports injury Clinic, Fabio is since 2013 the osteopath for the Italian Olympic rowing team, which is regarded as one of the best teams in the World, treating Olympic medallists, senior, U23 and junior athletes during the Italian camp and world championships.
Fabio has a dual registration as an osteopath in 2 countries: Italy and UK.He has experience with different acute and chronic symptoms, from children to elderly.
His particular interest is sports osteopathy: rowing, running, cycling, kite-surfing surfing, swimming, soccer, volleyball, basketball, weight lifting and fitness activities.
Fabio might use kinesio-taping in his osteopathy treatments.
He is a researcher in reliability of osteopathic tests, with 2 international publications – and he is lecturer at some osteopathic, physiotherapy and medical conferences. Fabio has achieved an MSc in Sports and Exercise therapy.
Fabio has been teaching for several years and his osteopathic therapy is based on structural adjustments, visceral and cranio-sacral principles and it is continuously combined with techniques and therapies, such as kinesio-taping and postural-stretching advices. He is aware of differential diagnosis and medical conditions thanks to his first-hand experience with different GPs, specialists and medical teams.
You wil find him empathetic and caring, open-minded and ready to help anybody. Patients often feel a relief of pain even after the first treatment and a clear treatment plan will be presented and discussed throughout the therapy.Fabio combines his osteopathy with several years experience as exercise therapist and personal trainer.
Robert Galloway, physiotherapist and applied kinesiology practitioner:
Rob is a state registered Physiotherapist with over ten years of musculoskeletal experience practicing in corporate and private physiotherapy clinics, now exclusively in the Central London Osteopathy and Sports Injury Clinics. He is not an ordinary physiotherapist, but using a broad range of treatments such as soft tissue work, massage, mobilising, manipulation, ultrasound, acupuncture, stretching and strengthening to release stiff joints, regain muscular strength and balance, aid healing of strained or sprained muscles and ligaments, also to mobilise bound neurological structures with the aim of restoring pain free movements of the body so you can return to your work sport or leisure activities as soon as possible.
Pilates based core stability exercises, ergonomic advice and aids, coupled with rehabilitation exercise programmes are given to strengthen the body and alter habits, which may cause re-injury with the aim of making the effect of the treatments long lasting. Post graduate courses include Acupuncture, Applied Kinesiology, Myofascial work and Cranial Sacral systems in order to offer treatment when required which taps into the subtle systems in the body with the intension of releasing, unblocking and allowing the body to return to healthy patterns of being.
Susana Tous, physiotherapist, former International tennis player:
Member of the Chartered Society of Physiotherapy, HCPC registered. Susana is an experienced Musculoskeletal Physiotherapist with a strong background in injury rehabilitation.
Her interest in Physiotherapy and Sports Medicine started at a very early age, whilst she was training in the Spanish National tennis team, where she spent a lot of her time receiving treatment for different injuries. Susana obtained a Bachelor's degree in Sports Medicine in 1995 whilst representing an American University tennis team. Spent the next few years assessing and managing sports related injuries, getting athletes back to their sport safely. Later on qualified as a Physiotherapist in London to become more competent treating a wider range of patients, not to be confined to treating athletes or sports injuries. For the last few years she has developed my expertise in treating a wide variety of patients and conditions.
She listens to ner patient's needs very carefully, addressing the causes of their injury as well as their symptoms to produce a diagnosis and treatment tailored specifically to their needs and goals. In her practice, she uses manipulation/mobilisations techniques, trigger point therapy, tapping, muscle energy techniques, adverse neurodynamics combined with rehabilitation exercise programs for patients to return to their work, sport or hobby as soon as possible. Postgraduate courses include, Acupuncture, advanced spinal manipulation techniques, K tapping, Functional Movement Screening, myofascial release and pain management.
She truly enjoys working with her patients, being 100% committed to help them achieve their goals.
Ange-Elie Ramariavelo, physiotherapist, former professional football player:
Ange-Elie is a therapist with 2 MA's, one in Sports Sciences and the second in Physiotherapy and functional rehabilitation. He obtained both with honours, and has a strong knowledge in applied anatomy, biomechanics, physiology and nutrition. Sportsman since little, he tried himself many activities such as athletics, gymnastics, motocross, dance, yoga and Pilates. His main sport, though, is football, and he plays at a semi-professional level, understanding therefore the sportsworld and expectations as well as the setbacks/injuries through my own experienced eyes.
"I would say my approach starts with listening, whether it is verbal or non-verbal, the body itself gives a lot of information.
As a part5 of my observation, I will evaluate your posture, the relative position of the different segments of your spine while resting, standing and in movement and the function of your main area of concern.
While treating, I use and induce motion as a main tool to show the right healing direction to your body. This could be done through mobilizations, rehabilitation exercises, muscle release and stretches or proprioceptive neuromuscular facilitations techniques. The aim will be to raise your body awareness, giving back to your body its proper postural harmony and function. Complementary techniques can involve kinesiotaping, myofascial work, trigger point techniques, positional release.
I know the body is organised in muscular chains, hence the root of your problem can be somewhere else than your main area of concern. Also, prevention and well-being is very important to me and I will gladly appreciate any discussion about meditation, breathing, training and least but not last stretching."
Anna Markee, sports massage therapist and teacher of sports massage, former dancer:
Apart from treating at the London Osteopathy and Sports Injury Clinics, Anna is a teacher of sports massage at the London School of Sports Massage, the premier college for sports massage in London. Her background as a professional dancer gives her a great understanding of the functional body. Amongst her massage techniques are myofascial release, soft tissue release, neuromuscular technique, muscle energy technique and connective tissue massage.
Rita Saha, Sports massage therapist:
Rita has been practising Massage Therapy – Performance, Prevention, Recovery and Rehabilitation for over 15 years. During this time she has had the privilege of working with a vast range of Clients, these include Members of the GB Athletics and Weightlifting Team, People with Spinal Cord Injury and Endurance Athletes. Rita enjoys working with new Clients and the challenges this can involve.
Rita has experience of working in Football and spent a number of years as a Therapist at a Premiership Rugby Club, travelling with them to away matches Domestic and European, as well as Preseason training overseas. Rita also works with young people and older people. A member of the 2012 Unit in Hackney, Rita continues to work as a Coach/ Instructor for the Borough.
Stephanie Douglas, sports massage therapist, former Olympic sprinter:
Stephanie used to be a track athlete and competed at two Olympic Games (1992 and 1996), and World Championships representing Team GB and is still in the UK's Top 20 all time of fastest women over 60 and 100 metres. She has won both silver and bronze medals at the Commonwealth Games.
She is a sports massage therapist and fits well into the high standards of the Central London Osteopathy and Sports Injury Clinic with her first hand understanding through her own elte sports background.
She provides a range of advanced sports and remedial massage techniques in order to prevent and treat injuries, optimise the healing process and maintain your body in tip top condition. Stephanie's aim is to help each client maximise the potential of their body in order that they can perform to their best, in work, in sport or at rest. This can be achieved through regular treatment, education and body awareness.
She is a fully qualified therapist with a Level 4 Diploma in Sport & Remedial Massage, and aims to use all her skills acquired in providing a first-class service to clients. Stephanie is also registered with the Sports Massage Association (the leading independent professional body for Sports Massage in the UK) and fully insured.